Electronic Timers Manufacturer
---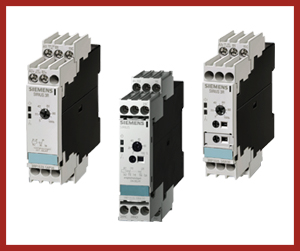 Electronic Timers Manufacturer in Ahmedabad, Gujarat
Siemens electronic timers manufacturer in Ahmedabad offers 3RP15 electronic timers which meet the various control timing requirements of industry. These timers comply with
IEC 60 947-5-1
IEC 61 000-6-2/EN 50 081-1 (EMC)
Carry CE marking
Application
3RP15 electronic timers can be used for all delayed switching applications in control, starting and protection circuits. They are ideal for use in application like machine tools, material handling, process control and motor control. With multifunction timer, you can configure the same timer as per your application need. Thus one timer is suited for many applications.
Benefits - Electronic Timers Manufacturer in Ahmedabad
• Reduction in inventory cost (upto 80%) due to universal time and universal voltage ON delay timers.
• High mechanical endurance of 30x106 operations ensures trouble free operation.
• Integral surge suppression – No voltage surges during switching makes them ideal for use with electronic circuits.
• Clear visual status indication through 2 separate LEDs both for actuation of control supply and the change over status.
• High level of Electromagnetic compatibility (EMC) i.e. maximum immunity to interferences.
• No more failures of contactors in Star Delta starting during changeover.
• Sleek 22.5mm wide housing and compact design saves panel space.